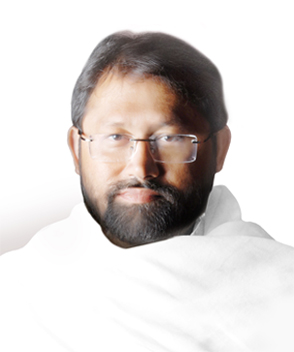 Pujya Gurudevshri Rakeshbhai
Pujya Gurudevshri Rakeshbhai, who is lovingly addressed as 'Gurudev', 'Saheb' or 'Bapa', is an embodiment of spirituality and an ardent devotee of Shrimad Rajchandraji. The founder of the Shrimad Rajchandra Mission Dharampur, Pujya Gurudevshri has illuminated numerous lives across the globe.

Born on the auspicious day of 26th September, 1966 in Mumbai, He showed signs of divinity at a very young age. Since the age of 8, He remained immersed in deep meditation and observed long periods of silence, which resulted in His attaining greater heights of spirituality. His extraordinary brilliance enabled Him to effortlessly master profound scriptures in a very short time. He was conferred with the degree of Ph.D. for His extensive research treatise on Shrimadji's finest literary creation, Shri Atmasiddhi Shastra. 

In 2001, Pujya Gurudevshri's boundless compassion manifested in the form of the glorious Shrimad Rajchandra Ashram, Dharampur, where thousands of aspirants congregate to imbibe His teachings and elevate themselves.